A well-guided checkout process can help avoid cart abandonment and encourage conversion.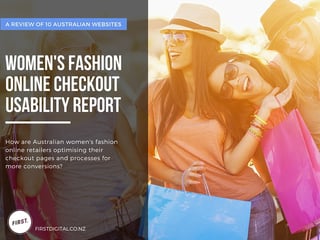 One of the reasons why checkout abandonment still averages over 60% despite ecommerce technology improvements is a confusing process and poorly designed pages that creates barriers for online conversions.
The purpose of this report is to provide you with the basic framework of the critical checkout page elements as well as give you checkout process optimisation recommendations that will help you improve traffic, retention and conversion from your ecommerce website.
This report contains:
The Conversion Experience Scoring (CXS) rankings of Australian ecommerce sites in women's fashion online industry

The conversion elements which are most and least present in the checkout pages of the analysed sites
A checkout process review with actionable insights of each site from the shopping cart page straight through to the confirmation email

37 checkout page conversion strategy guidelines for more effective ecommerce checkout pages set across seven sections
Get the FREE Women's Fashion Online Checkout Usability Report now by filling out the form.