Are you making your checkout process as easy as possible for your customers?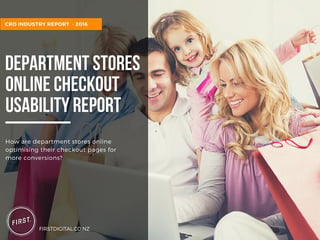 When a customer finds it hard to complete your checkout process or navigate through your checkout pages, you risk not only losing the online conversion but losing that customer as well.
Good checkout processes are those that keep the customers well informed and focused at each step. They include critical elements which are discussed in this checkout usability report.
This report contains:
The Conversion Experience Scoring (CXS) rankings of ecommerce sites in the department stores online industry

The conversion elements which are most and least present in the checkout pages of the analysed sites

A checkout process review with actionable insights of each site from the shopping cart page straight through to the confirmation email

37 checkout page conversion strategy guidelines for more effective ecommerce checkout pages set across seven sections
Get the FREE Department Stores Online Checkout Usability Report now by filling out the form.